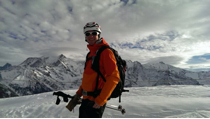 Richard Leafe took over from Gerard Unthank as club president this autumn
It's truly an honour for me to take on the role of President and look forward to working and skiing with you over the next three years. The last three have flown by and I'm jealous of the snow record that our last president Gerard enjoyed. A hard act to follow in so many ways.
My thanks to Gerard for all he achieved over that time and I'm delighted that he will still be making a contribution to the work of the committee.
My hope is that we will continue to build a great club and encourage the contributions of a greater range of members to the various tasks needed to keep the c...
![endif]-->!--[if>![endif]-->!--[if>![endif]-->!--[if>