The Lake District Ski Club is situated on Raise, north of Helvellyn, in the Lake District National Park. It's at least an hour's walk up from the YHA at Glenridding, and you should be reasonably physically fit and have appropriate equipment for mountain activity before you make the journey. For the best ways of getting here see Getting to Glenridding page and don't forget to read the Getting up the Mountain page
Glenridding is situated on the shore of Ullswater, for more information about things to do and places to stay in the area, see the Ullswater website. There are a couple of pubs, and many members stop off at the Traveller's Rest for apres ski.
Some of our members make some fantastic journeys from all over the country to ski at Raise. If you are travelling from far away, there are plenty of B&Bs and several hotels locally, or the YHA is, of course, just an hour's walk from the club hut!
First Time?
Cautionary accounts from two members on theirs (posted Jan 2021 on our Facebook page to warn others...)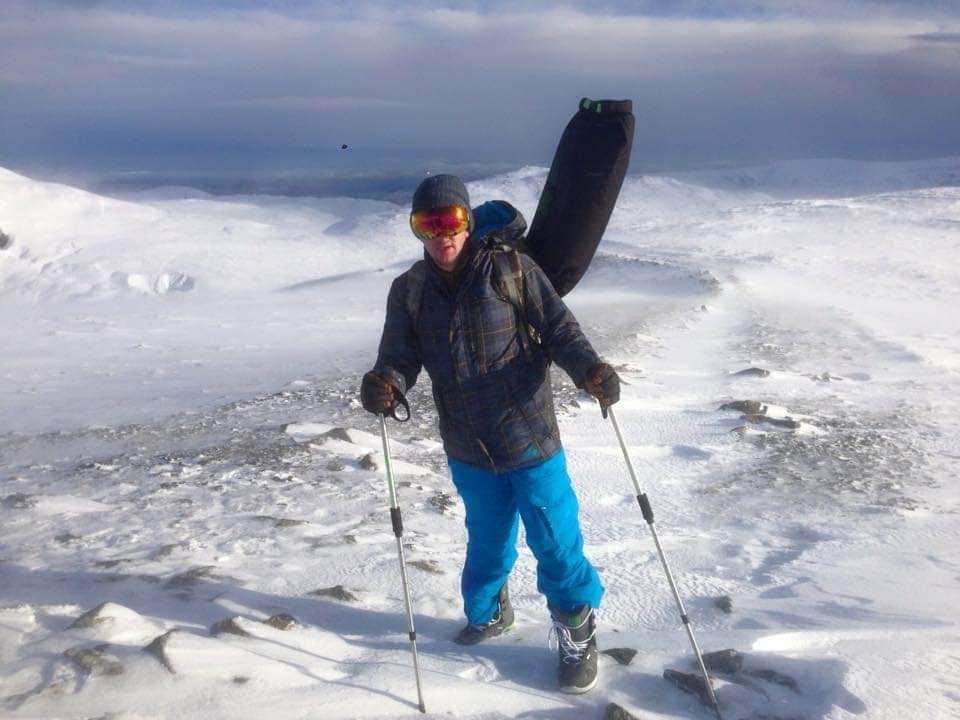 Craig's story
Well, today is my five year anniversary of falling in love with Raise.
Talk about baptism of fire!
After expecting a good snowfall I decided to take the day off and head up – I was excited and apprehensive as not only was this my first time Snowboarding in England it was my first time snowboarding outside a snowdome full stop!
The drive up there was challenging to say the least... I'll put my hands up and say that I was totally unprepared!! The heavy snow stared on the dual carriageway towards Windermere, when I left Kirkstone Pass looked fine on the webcam but by the time i had reached the burned out pub it was nearly impassable!
I managed to dig the car out once before pulling over to decide my options just past the 'burned out pub' thankfully a snowplough passed and gave me an opportunity.
I managed to follow and on the last incline before the Kirkstone Pass Inn I got stuck again. I had been given a sense of false security watching similar cars (Ford Mondeos) drive it with no issues. Thankfully, some lads from a rugby team helped me out and got me on my way whilst pointing out the other vehicles passing me (including theirs) had snow tyres.
The way down wasn't much easier... Lost traction on the rear wheels and the back if the car slid, giving the kerb a nice 'kiss'. The rest of the drive was surprisingly uneventful and I managed the drive all the way up to the mines car park with no issue.
The drive was just part of the story though. As i got kitted up ready for the walk and decided to walk the zigzags with two other new members before waiting for another experienced member to progress further (at this point I had a map and compass but the snow was deep and I thought better to play it safe) it was at this point, the two lads with me turned back, they really were not confident and decided to try again another time.
A few minutes later I met an experienced member Leigh. I joined him and he took his time with me walking to the lift. It was a brutal walk with drifts waist deep in places it took us a while but It was it worth it!
Upon getting to the tow the conditions were amazing! Deep powder that buried the snow fences in areas! After a failed attempt i got to grips with the lift with little issue. The snow on the other hand was a different story. With my normal snowboard and bindings in the normal position it was hard staying on top of the snow. Whilst i was fighting all the way I eventually started to get the hang of snowboarding on powder before the light started to fade.
Leigh then asked if i wanted to join him on the way back, I agreed but then he informed me he was taking the Keppel cove route. I was apprehensive with it being "off piste" but after a pep talk and knowing he would help I decided to join him.
WHAT A MOVE!! to this day I will never forget that! That snowboarding was the best and most memorable of my life and whilst I got stuck once or twice it was just unbelievable! Managed to make it all the way to the car park too.
What a day, what a place! And so glad I tried it! Whilst I seldom get days off, I have been a member ever since and usually manage 1 - 3 days a season there.
Thought I'd post the full story as it's also a good indication of what not to do!
Needless to say, a week later I purchased snow tyres and chains…
Dave's story...



Great story, can completely relate. My first trip up to the tow was 4 years ago, myself and my boarding pal set of up the zig zags about 11am expecting it to take about an hour as we had been told. But once at the top of the first climb we took the wrong route and stayed in the valley and as it had snowed very hard it was waist deep.

We could hear people talking but couldn't see them, then realised they were above us on the ridge near the chimney. Once we climbed up there we saw that the snow had been blown off into the valley and we had been fighting through it for hours.

After 3hrs we reached the tow and then it took 2 goes before reaching the top and I remember saying "well it's not Chillfactore is it"? First couple of runs were different to say the least, getting to grips with hard pack then powder then ice was a baptism of fire. After getting in only about 6 runs it was getting dark and time to set off back down. Totally loved it. And you know what they say: "once you've snowboarded at Raise you can board anywhere. By the way could hardly walk for 3 days afterwards 😂.